"Pray tell, what is going on here?"
Tinker is an employee of Miss Cell-Any's Emporium, first introduced in Chapter 12 ("Wardrobe") of the comic. The Hero is shown to like him from first glance as she loves bugs[2], and promptly hugs him on sight. He is the co-worker of Cell and Tailor.
Personality
Edit
Tinker is an intelligent yet practical fellow. Delicate, neat, and particular, and both hard-working and polite. He likes carpentry and mechanics and has a dry, witty sense of humor.[3]
Appearance
Edit
In-comic
Edit
Tinker is a monster resembling a preying mantis, who possesses various basic tools for arms and legs. He is neatly-dressed, wearing a waistcoat and a tie.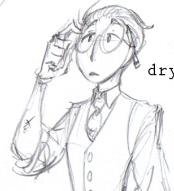 Mod was prompted to post a reference of Tinker as a human. From this, we get not only a design, but also several notes on his personality. Later, RGB confirmed that Tinker had once been a Hero,[4] meaning this human form may have been canonical.
Human!Tinker dresses much the same as his monster counterpart, with the addition of a pair of round glasses and pencil tucked behind his ear. He is a butler by profession, and keeps a rail-straight posture of 6'3". He is forty-some years old and of Japanese descent.[3]
Dialogue
Edit
His speech bubbles are pale yellow and rectangular, and are connected to him via straight lines. Tinker speaks exclusively in Morse Code, which Hero remarks"sound like typing".[5]
Morse Code Translations
Edit
Page 215
Edit
"Pray tell, what is going on here?"
"A bug?"
"Oh, it's you"
"Gracious me"
Page 216
Edit
"You poor thing"
"Which one?"
"As you wish"
"Here, Miss"
Page 218
Edit
"Very droll"
"Yes, Miss Cell"
"Very good, Miss Cell"
Page 229
Edit
"You are most kind."
"I imagine so, Miss."
Page 230
Edit
Page 231
Edit
"Possibly, Sir."
"Indeed, Sir?"
"Sorry, Sir."
"But I am incorrigible, Sir."
Page 234
Edit
"Kind of you to say, Sir."
Page 235
Edit
"I hope Sir is satisfied with the outcome?"
Page 236
Edit
Page 255
His Hogwarts house would be Ravenclaw[6]
References
Edit